Sea Eagle Inflatable Kayak- 465ft Fast Track 2 Person
465ft FastTrack™ Inflatable Kayak
The Sea Eagle 465ft FastTrack™ combines all the features of it's smaller sister (the 385ft FastTrack™) with the ability to carry more cargo and persons.
FastTrack™ Series
FastTrack's™ combination of sleek, curved, touring shape with state of the art "NeedleKnife Keel" provides true rigid kayak performance with the benefits of an inflatable. Most importantly, the FastTrack™ is designed to be extremely safe and stable.
HIGH PERFORMANCE / ULTRA-LIGHT WEIGHT
 Rigid kayaks can weigh 65-70 lbs, our Sea Eagle FastTracks™ weigh just 35 & 44 lbs respectively. 
NMMA Certified
2 Open and close drain valves
Front & rear spray skirts with storage below and elastic rope lacing for additional storage above
Separate inner High Pressure Drop Stitch floor for greater rigidity
Large, removable, swept back skeg at rear to control yaw and improve speed
Outside drop stitch high pressure keel at bow for true tracking
20 D-rings to secure seats and gear
State of the art NeedleKnife Keel
Bow and Stern grab handles
Hull material resistant to sun & saltwater
Nylon carry bag, repair kit & Printed instructions
Sea Eagle's Patented NeedleKnife™ Rigid Inflatable Keel
The unique external drop stitch construction inflatable keel allows the FastTrack™ to paddle far faster and straighter than other inflatable kayaks. The keel features sharp bow and stern molds that slice through wind, waves and current for a super fast, super clean entry and exit! The inflatable bow keel also provides the buoyancy and lift needed to ride over waves and further improve speed. (U.S. Patent #8,286,573 2)
Sleek Asymmetrical Shape
The FastTrack's sleek asymmetrical shape is tapered and narrow at the bow while being wider at the stern. This allows the FastTrack™ to punch through waves faster and easier because of the narrower bow while providing buoyancy where most needed - where 1 to 3 paddlers sit.
Super Rigid Drop Stitch Floor On Top Of Outside Floor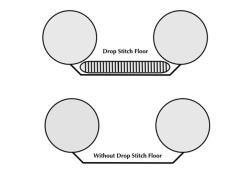 The unique modular design of the Sea Eagle FastTrack™ features a super rigid, high pressure, drop stitch floor that sits on top of an outside floor. This has several advantages. The high pressure DS floor provides great rigidity and rigid hull like performance. The reinforced outside fabric floor provides a double layer of added protection where it's most needed. The modular design allows the DS floor to be easily removed for quick and thorough cleaning.
Large Removable Rear Center Skeg
A nice feature of this design is that the skeg can be removed with the FastTrack™ inflated or deflated. Simply remove it for whitewater and skinny water adventures (eliminating it as an obstruction)and replace it for flat water to reduce yawing (swinging to the right or left). This increases track-ability during long flat-water touring, maximizing efficiency.
When deflated and packed well, this hull will fit in:
Backpack, Car Trunk, SUV, Truck/Large SUV